Spring is definitely around the corner — it's been quite a mild day here in Adelaide. It was quite cool in the morning but I didn't need a jacket when I pruned the shrub in the frontyard this evening. Don't you wish the trees and the plants just "look good" by themselves? *grin*. There's this shrub in the corner of my frontyard that is growing quite 'rabidly' – I think the tree's native to Australia. If I can get my act together, I'll take a picture of it in case somebody out there can identify it. Even though I'm faced with the possibility of more pruning, watering, weeding, grass-pulling once every plant wakes up from their dormancy, I can't wait for Spring to come. I planted two Amur Maple trees (acer ginnala) in May 2006 and last week I also planted an Ornamental Pear (pyrus calleryana 'Glen's Form' Chanticleer).
The picture at the top is of a mature Amur Maple whereas the one below shows the different look of an Ornamental Pear Tree in Spring, Summer, and Autumn. I've been intrigued by this tree for a very long time. When I came to Adelaide as a student in 1992, I used to love walking along North Terrace and admired some trees that would look great once April arrived. The leaves nearing the base of the tree would still be green, but those in the middle would be salmon and those near the tip would be crimson. How great is that! I do know now, after endless googling and asking around, that the trees are probably Manchurian Pears (pyrus ussuriensis). Through my research, I discover that apparently Ornamental Pears are better than Manchurian Pears – better form and more robust. There are lots of Ornamental Pear variants, but I settled with 'Chanticleer', just because that's the only variant that the local nursery stocks … hahaha. Instead of digging using a hand-trowel, like what I did when I planted the Amur Maples, this time I had a brand new shovel from K-Mart to help me dig through the couch grass. Bring on Spring so I can see the flowers!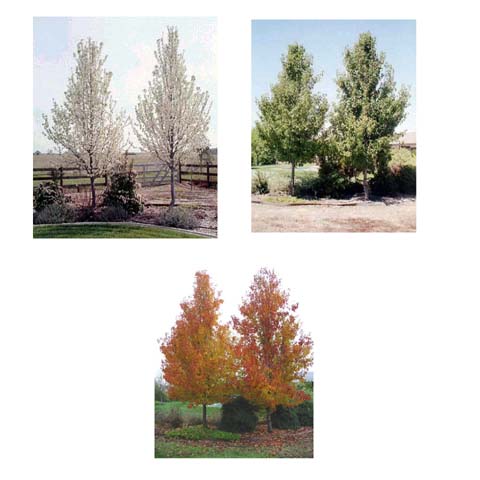 Anyway, it's time for me to make myself a cuppa, and wait for ABC News at 7.00pm. 🙂 It's been quite a full-on Saturday too — after 'Workers' Worship' at Bonython Park, I skipped the barbeque and had a quick lunch at Chinatown instead and then head down to work. Next week's going to be very hectic, so I thought I could start my report early. Worked until 3.30, then wandered around Rundle Mall, and then headed home and did the pruning, etc. PHEW!!