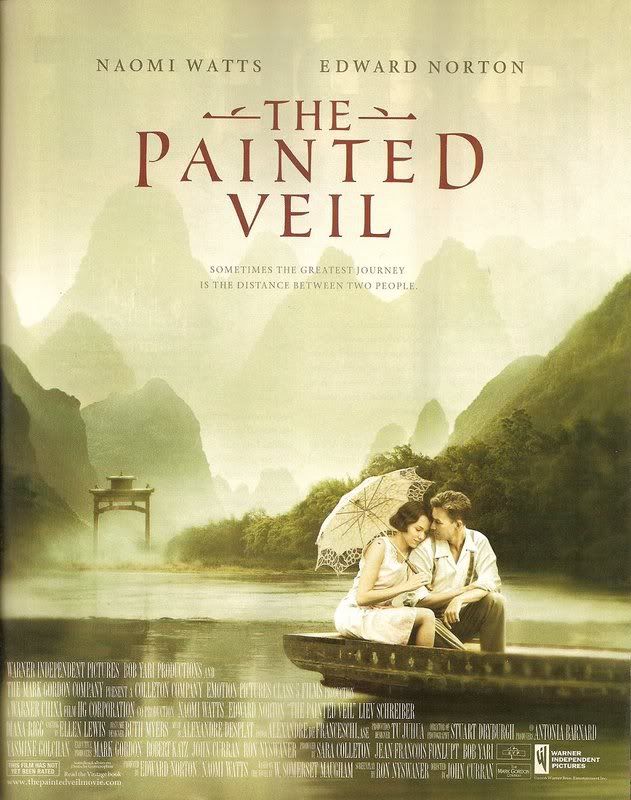 I watched The Painted Veil today with Yani – we met after work and had a quick dinner at Scoozi in Rundle Street. I initially booked a table at Amalfi Pizzeria but it wasn't open at 5.30pm, so we went to Scoozi instead. I had my usual bowl of penne with rose sauce, whereas Yani had pappardelle, also with rose sauce.
I truly enjoyed the movie. It's based on W. Somerset Maugham's novel so it seems just natural that the movie has plenty of smart witty lines amongst the characters. The movie is about Walter and Kitty Fane. Walter Fane is played by Edward Norton, a bacteriologist who marries Kitty Norton (Naomi Watts) even though Kitty doesn't love him at all. Kitty has to accompany her new husband in Shanghai, and when she has an affair with a fellow British expatriate (Liev Schreiber), she has to pay the price by going with her husband to a cholera-ravaged area in the hinterland.
The movie is beautiful and lush and has that old-fashioned charm to it – yes, the movie is set in the 1920's, but the way the camera lingers, the lighting, the acting – all of them have that old-style quality that are hard to find these days.  The pace can be slow at times, but if you persevere, you will be rewarded with one of the best dramatic love stories to enjoy. Apparently the movie was made in 2006 – I don't know why it took a long time to reach Australia!
Seeing the movie also makes me remember that I do want to have kids of my own – there's a scene in the movie where Kitty is asleep amongst the orphans. Hearing the sound of children sleeping – the short breathe-ins and outs that I used to hear from my nieces and nephews – made me wish I had children to come home to.
Edward Norton's character, Walter Fane, also reminds me of myself – I can totally understand Walter's reaction when he finds out that Kitty is having an affair. I can also understand why he chooses to punish her the way he does. I can understand his woodenness and his lack of communication – of his preference to keep things inside, rather than communicating them with Kitty. In a way, I am very much like Walter Fane. There's a dialogue in the movie when Kitty says, "For God's sake, Walter, will you stop punishing me? Do you absolutely despise me?". Walter responds by saying, "No. I despise myself. For allowing myself to love you once." I can also understand that – the pain of having your trust betrayed. I am like Walter, once I give my trust, I give it wholeheartedly, and when it is betrayed, it leaves a deep, bleeding scar.
http://www.youtube.com/watch?v=B02OX_jB9vQ
The Painted Veil is a wonderful movie – it has nicely slipped into one of my personal Top-20 movies … Highly recommended. [4.5/5]