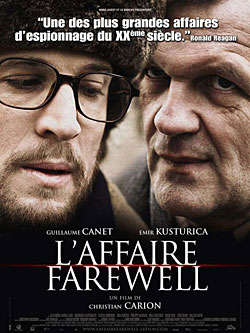 The year was 1981, at the height of the Cold War.
A naïve engineer stationed in Moscow is reluctantly dragged into the world of espionage when he is in contact with a high-ranking KGB, Colonel Sergei Grigoriev. Grigoriev is an idealist who is fast becoming disillusioned with communism, so he starts feeding top secret information via Pierre Froment, the engineer who then passes it on to DST – French intelligence agency. The information goes as far as François Mitterand and Ronald Reagan, unmasking the level of knowledge that the Russians have gained from the western countries ("the code to unlock the White House, the phone number of the laundry company, …"). Froment has to lie to his wife as he continues to see Grigoriev and has to watch his back from the wiretapping devices – on the other hand, Grigoriev also has to be extra cautious as he supplies super sensitive information over to the French. Grigoriev and Froment are given a codename "Farewell" by the DST, so as to give the impression that the Americans are behind the leak.
'Sergei Grigoriev' is apparently modelled after Vladimir Vetrov – a KGB spy who leaked numerous top secret information to the West. In the movie, Grigoriev is a dedicated father to his family and wants a better life for his son, which is the reason why he betrays his own country. Emir Kusturica is perfectly chosen to portray Grigoriev – a hulking, brooding bearish man with a restless, gentle heart, while Guillaume Canet plays the confused and yet determined Froment very well also.
Farewell is a trip back to the 80's, when the air is tense with the possibility of war between the United States and the USSR.  The paranoid and fear portrayed in the movie is similar to the scenes in The Lives of Others (Das Leben der Anderen). Christian Carion, the director behind Joyeux Noël, manages to infuse the movie with a sense of paranoia and distrust. The movie confirms the fact that politics is a dirty business of backstabbing and double-crossing and even triple-crossing.  Those who are expecting scenes of wild car chase, gruesome death, shooting and fistfight will be disappointed – but those who can appreciate a taut, political thriller will be rewarded.
(If there is something that I takes away from the movie is my discovery of Léo Ferré's music – although my level of french comprehension does not allow me to appreciate the songs and the poetry to the fullest, even a glimpse has got me hooked.)
Rating: