When I bought my house five years ago, the previous owner had already planted some trees in the frontyard, backyard as well as in the western side of the house. Along the years, I got to know their names, either through spotting the same kind in a nursery somewhere, or through browsing through the Internet or a gardening book.
I have a shrub in front of the house that never fails to produce delightful red flowers every spring – I never knew its name but I thought it must be the shrub version of the Japanese cherry blossom (I don't even know if such thing ever exists! Hahaha). Then sometime last week, I noticed a strange golden fruit on one of its branches – I took it in and put it on the kitchen bench. It smelled edible but I didn't dare to eat it. There it sat for a couple of days without me doing anything with it.  Then today, while browsing and relaxing, I thought I should google it – and voila, now I know what the plant is! It's a Japanese flowering quince tree or chaenomeles japonica! I got the Japanese bit correctly. 😀 I read I could use the fruit to make some jam or jelly and that the fruit is too astringent to eat raw. So I cut the fruit that I picked from the tree, and collected the seeds. I wouldn't mind having some more of the trees in the backyard as it does look beautiful in Spring!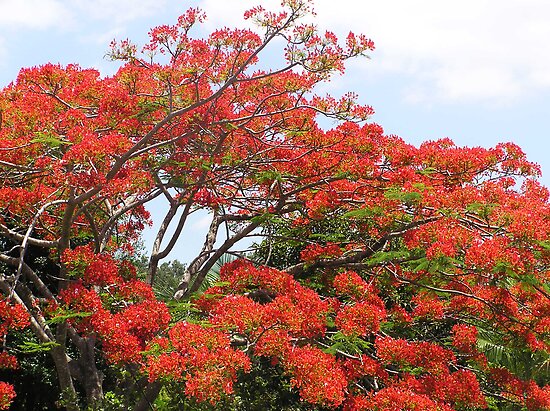 Talking about gardening, I also ordered a Royal Poinciana tree (Delonix regia) from an eBay seller in Queensland. Royal Poinciana is a native of Madagascar and is also known as 'Flamboyant' – I saw them all over the place in Surabaya earlier this year and I fell in love with it. It has nice spreading structure and the flowers are just wonderful! The trouble is, it is a tropical tree and Adelaide is not tropical at all! However, I thought I should give it a go – if Jacaranda trees that are meant to be tropical, can grow in Adelaide, surely Royal Poincianas can grow here as well with a lot of tender loving care? As I will only get a smallish seedling, I plan to keep it in the house with some good light, and then plant it in early Spring when it is warm enough for the tree to grow. I'm afraid that the cool Autumn and the cold winter will destroy it, if I plant it directly this Autumn. If you have any tips that will help me grow a Royal Poinciana in Adelaide, that will be much appreciated! 🙂 I read in some forums that some keen gardeners managed to grow it in Algarve (Portugal), San Diego (CA, USA) and Phoenix (AZ, USA) that have similar climate to Adelaide – so there's hope!! I'll keep you updated!
Due to my academic activities and church involvement, I haven't done a lot of gardening recently except for watering the trees and plants last week. I really should spend more time with my trees as well as they do provide me with a lot of stress relief! 🙂 (If you're wondering, life is going well with me and Yani – we're adjusting to each other nicely and I'm also enjoying my status as a research student – but I'll elaborate in another blog entry!)