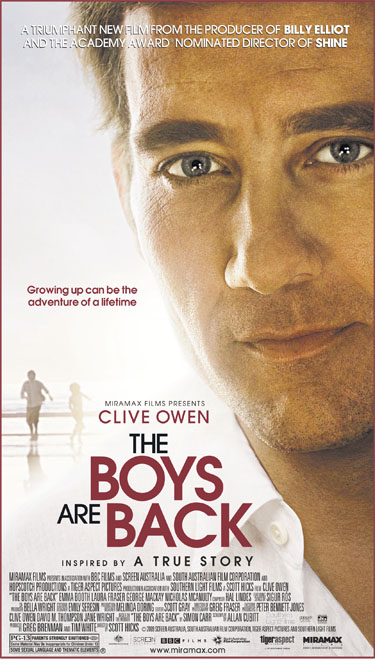 I'm back in the comfort of my living room again with the aircon keeping the room cool – I went to the city today just to be out and about and relax in the Mall. It's been a while since I had the chance just to walk around and had my chicken and salted fish fried rice at Penang Hawkers Corner.
I watched The Boys are Back – Clive Owen's latest movie that was filmed right here in South Australia! Clive plays Joe Warr, a sports journalist for the local newspaper in Adelaide. When Joe's wife, Katy (Laura Fraser) suddenly passes away, Joe faces the prospect of raising his young boy Artie (Nicholas McAnulty) alone. Not long after, a son from his first marriage also decides to join them, making the situation more challenging for him to manage. Joe has quite an unorthodox way of raising the boys – they are allowed to play soccer inside the house, they chase each other with waterbombs – Joe even puts Artie on the bonnet of the car when he drives on the beach!
Joe Warr, is a character that is based on a real-life journalist, Simon Carr, who moved from the UK to New Zealand. The name is changed a bit, and the setting is moved from the North Island, New Zealand to South Australia.
I like the movie, but I feel that it doesn't really hit the spot for me. Whilst the story interests me and the actors play their parts really well, there seems to be an emotional detachment from the story. Understandably it's a tough balance to present a story about death and mourning without making the movie a soppy, sentimental tear-jerker.  Scott Hicks (the director behind Shine, also filmed in South Australia) has certainly succeeded not to succumb into melancholia, but perhaps almost too scared to infuse more emotions into the movie. Perhaps I'm just getting trivial, as it is really a fine movie.
The movie also showcases South Australia beautifully – rippling sunburnt golden grass, rolling hills, vineyards – just gorgeous. It makes me appreciate South Australian beauty. We may not have green hills like in Ireland, or majestic mountains like in the Alps, but South Australia is beautiful in her own rights!
Rating: