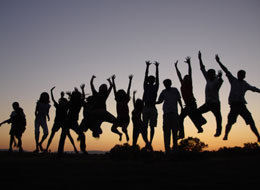 It's still sunny outside even though it's already 5.00pm – the day has certainly got longer as we progress closer to Summer. I'm one of the few who are still staying at the office as I've been working on a report that I was meant to finish today. I have asked my project sponsor whether I could send it over to her on Monday morning. She's okay with it so now I can breathe a little bit easier!
So, I'm about to call it a day and enjoy a bit of the afternoon sunshine outside. At 7pm I'll be heading off to the cellgroup and meet other Indonesians. I hope my grumpy self doesn't surface when I'm faced with indecisive and giggly Indonesian youth. Haha.
Tonight, I'll finish my 'Family History' page and launch my newlook blog! At the moment you may have noticed that you're not allowed to select 'Family History' as it will bounce you off to the 'About' page. It will all be revealed tonight – I hope you will like the new look.
Please post your comments over whether the new look is a thumbs-up or a thumbs-down! Okey dokes, have a great weekend, all – have a look at the new blog tomorrow morning if you like. 🙂