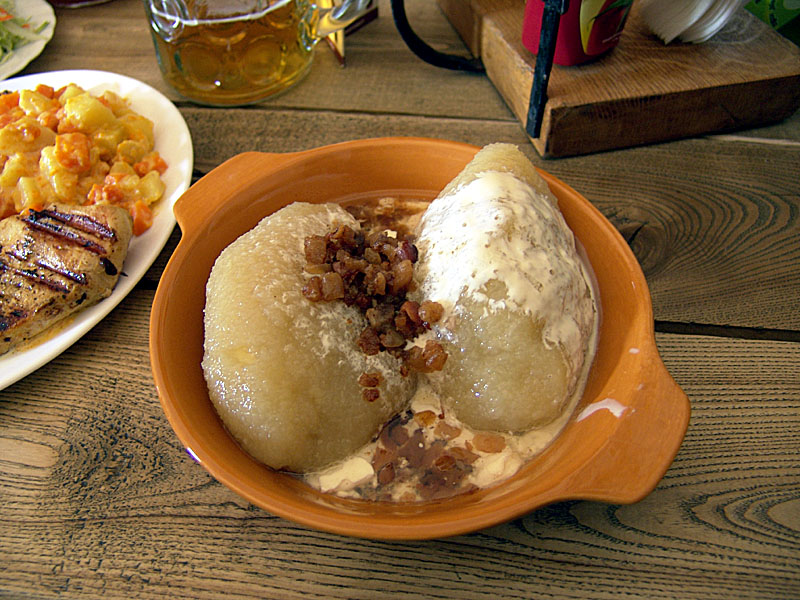 I've just finished my dinner at the same place that I had one last night – I thought I would be luckier with my cepelinai quest if I have my dinner early. Just to refresh your memory, Cepelinai is a large zepellin-shaped potato dish with meat on the inside. Well, I was lucky tonight, so I had some Cepelinai for dinner and boy, did they stuff me really well. They taste like a comibination of a large gnocchi and the Chinese-Indonesian "Bacang" (pronounced: Baa-chung).  Bacang is rice with stuffed meat and cooked inside some pandan leaves. I also had some "Šaltibarščiai" as a starter (Cold Beetroot Soup). I think I'm hooked! The first time I tasted the cold beetroot soup was when I was in Riga, and it was really suitable for mid-summer soup. So I may cook some when I'm back in Adelaide.
It seems that there are some culinary similarities between Latvia and Lithuania – both have cold beetroot soup, and both have an affinity with kefir. I see people drinking kefir when they go to restaurants, either in Riga or in Vilnius. I didn't observe that in Tallinn, but maybe it is also prevalent there?
Well, now that I have finished my "Trifecta Baltica", here's my ranking for goodlooking inhabitants, through my limited observation. 😉
Estonia
Latvia
Lithuania
So folks, the girls *are* stunning in Estonia, seriously. Latvians are somewhere in the middle, and Lithuanian girls are also beautiful, but in terms of general beauty, Estonians win hands down!
Well, just a recap, today I walked along the Gedimino Prospektas again, wanting to visit the KGB Museum, but I ended up only passing it and taking some photos because it looked closed. I also took some photos of the Frank Zappa Monument (why it is erected here in Vilnius, God only knows!!), and also a bazillion photos of churches, churches, and more churches. If Adelaide can claim itself for being the "City of Churches", well the claim will lose against Vilnius! I also visited the National Museum, Vilnius University, and revisited the Town Hall, the Gate of Dawn, and also saw the interior of numerous churches in Vilnius.
So, all in all, I'm ready to move on and visit Berlin!!! Now I just need to take a shower, relax, and repack my bags – I was going to do my laundry in Vilnius but I think I'll wait until Berlin. I'm running out of clean undies again! 😛