I didn't feel particularly well last night so I didn't have the energy nor the concentration to write a blog entry. I shouldn't have had the free apperitif champagne that was offered, on top of the riesling that I ordered with my meal. Dinner was delightful though! Last night I went to a restaurant called 'De Vlaamsche Pot' here in Brugge. I had the Vlaamse Karbonaden (Flemish beef stew) which was served with frites. The food was served in a 'down-to-earth' manner: the waiter came over with a big wok, and put a big scoop of frites on your plate, and the stew was served in a cast iron pot, along with a little bowl for the apple sauce. For dessert, I had some waffles with chocolate sauce and ice cream. Heel lekker! 🙂
Unfortunately, I felt pretty queasy after the two glasses of wine, so I made my way slowly to the hotel, had a short lie-down, took a shower and went to sleep. It was a restless sleep as well as I kept on waking up during the night. It's not the hotel, though – I'm staying in a delightful boutique hotel called Hotel Maraboe, owned by a couple called Sandra and Xavier. Presumably Xavier checked me in and he was really friendly in a quiet sort of manner. He gave me a voucher that would give me group discount to the local attractions, as well as two vouchers for the local restaurants – one of them was for 'De Vlaamsche Pot'. Breakfast this morning was really good as well – good choice of fresh bread in a nicely-decorated room with warm ambience. The whole hotel feels like it's managed with good level of care and attention. I would really recommend anybody to stay here when you're over in Brugge – even though there's a busy road in front of the hotel, it's just a quick stroll away from 't Zand and the other attractions here.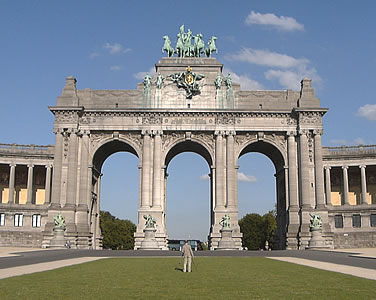 Let's start the blog entry properly though – yesterday I checked out from my hotel in Brussels at 11.30am. After I had my breakfast at the hotel, I still had a couple of hours to spare. I read in Wikitravel, that the Parc du Cinquantenaire – Jubelpark was worth visiting because it has Belgium's Arc de Triomphe (Triomfboog). It was drizzly in the morning unfortunately, so I ummed and erred for a while before making my way out. It was an easy journey by Metro to the Schuman stop, and then a brief walk to the park. I had another chance of practising my rusty french by asking a local 'Excusez-moi. Où est le Parc du Cinquantenaire?'. Thank God I still remember some french – he understood me, and gave me the direction to take. It felt good to speak in the language of the locals and get yourself understood! 😀
Even though it was drizzly, I had a good photo sessions at the park – I even went to the top of the Arc to see Brussels spread out in front of me. By that time, the drizzle had stopped for a while. If you're in Brussels, stop by the Arc de Triomphe, because it gives you a good view of Brussels, and secondly, it's free to get in! Yes, siree – there's a freebie in expensive Europe too! 🙂
I couldn't stay for too long because I had to check out. I took the 12.56 train to Brugge and arrived shortly before 1pm. Brugge has really won me big time – I arrived to cloud-adorned blue sky with some breeze that ruffled the leaves. The direction given by Hotel Maraboe on its website was also pretty accurate, so I didn't have any trouble getting into the hotel.
I had a stroll around everywhere – I took up the stairs (all of the 366 steps!) to the top of The Belfort and enjoyed the ding-donging Carillon at the viewing platform. I also visited the Heilig Bloed Basiliek that purportedly houses a vial of Jesus' blood. My visit to Onze Lieve Vrouwekerk was also enjoyable – taking a picture of the streaming sunlight through the stained-glass window was really rewarding. I had a great walk exploring the streets lined with medieval houses, taking pictures here and there and just enjoying some photo shoots of the canals as well. I also treated myself to a brodjes and some macaroons from one of the local shops near the Begijnhof. Those macaroons are great – they melt in your mouth as soon as you eat them. Yummo.
My favourite part of Brugge so far are the streets and the canals, but most of all, the Begijnhof – I love the Begijnhof in Amsterdam, but the one here in Brugge is so peaceful and larger in size. The weather was perfect – sunshine, blue sky, with some breeze that turned the leaves into an orchestra of whirrs and whispers. The trees are all planted in the park in the middle, and surrounding the park are the black-and-white houses of the beguines, single Catholic ladies who live in a communal setting, akin to a monastery. It was truly a peaceful place.
Today, I'm going to explore some more of Brugge, and I'm thinking of venturing further to the city of Ghent, to the south of Brugge. The trip is about 20 minutes by train – I'll be back in Brugge in the afternoon, just to relax and enjoy this charming town.