Note: The entry is backdated as I could only write it offline due to the lack of internet access in Salzburg – Munich.
Having explored some more parts of Norway, the cities of the old Austro-Hungarian empire, and Munich, I am now ready to complete the last stage of my journey. I will be heading off to Maastricht tomorrow, early in the morning at 5.51am. That's why I should write this blog entry quickly and head off to bed without further ado afterwards. I suppose not having an internet access in Munich is a blessing in disguise as I won't be tempted to dilly dally in Facebook before I go to bed. Haha.
Today has been really memorable – I joined the Dachau Memorial Tour along with four other participants: 2 Irish and 2 Canadians. One of the Canadians is a market researcher who travels around the world to conduct qualitative research. Tonight he will be flying off to Santiago, Chile. How's that for a career, eh? The tour guide kept us well-informed throughout our journey and provided the background story to the rise of Nazism. We took the S-Bahn from Hauptbahnhof to Dachau, and took a bus from the Dachau Train Station to the location of the Dachau Concentration Camp (Konzentrationslager Dachau).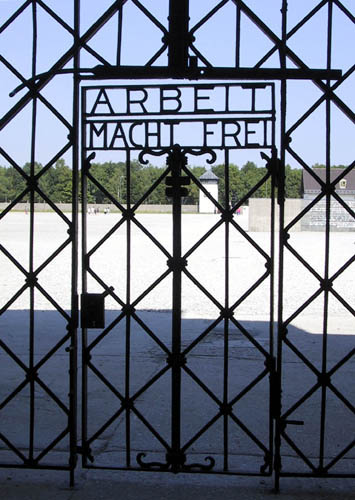 For those who don't know much about World War II and Nazism, Dachau was the first concentration camp that Hitler used as a model for his subsequent concentration camps. It was hard to ponder that such atrocities could happen in the midst of the greenery and the peaceful surrounding. We walked past the gate with the notorious Nazi slogan 'Arbeit macht frei' (Work sets you free). Freedom through death – as the prisoners were made to work until their last breath. We walked through the reconstructed barracks, the museum highlighting how the prisoners were tortured and killed, who and how many were sent to Dachau. There were priests, Jehovah Witnesses, homosexuals, political prisoners, criminals, and of course Jews. It was very harrowing and sobering to stand in the field where the role calls were made. We also watched a harrowing short movie about what happened when Hitler came to power and what the prisoners had to endure in Dachau and other concentration camps. When a prisoner entered Dachau, they were considered a number and even lower than animal. Thus, they were not allowed to keep pets, because how could something lower than animal take care of a pet?
We also walked to the area where the original crematoriums still stand … It was a strange, oppressive feeling as I entered the crematorium area. Especially when you know that around sixty years ago there were prisoners who thought that they were entering a bathhouse, only to be gassed to death, and then cremated.
The whole tour took about five hours – we returned back to the Hauptbahnhof a little bit tired and quieter because of the experience. I then ventured alone afterwards and revisited some of the sites that I went to yesterday. Hitler sure did have a delusion of grandeur when he erected some Greek-style buildings around Munich. I also went to Englisches Garten, to see some surfers on the manmade river, Eisbach. Yup, real surfers in the middle of Munich! So many youngsters swimming in the canal even though there were signs warning visitors not to swim in the canal due to the strong current. There were also lots of sunbathers in the park. There were many onlookers as well, so obviously the place has become a good tourist attraction.
I walked back to the city centre around Marienplatz. There were some people commemorating the bombing of Nagasaki and Hiroshima in 1945 and reminding the onlookers about the importance of peace. Very appropriate. I then bought myself the book that Keith, the guide for the Third Reich walk the previous day, used for the walk. For dinner, I had some bratwurst and bread at the Hauptbahnhof because I was soooo tired already after so many hours of walking and sightseeing. I shouldn't have eaten my bratwurst too quickly though, because I scalded the roof of my mouth! It's still sore at the moment.
I like Munich because it feels much more relaxed than Salzburg or Vienna. In terms of beauty, I like Vienna better – Munich feels like another big city. The people here are MUCH friendlier though! A lot of the buildings in Munich were also destroyed during World War II, so there were more reconstructed buildings and newer buildings in the city. If I return to Munich, it will be to base myself before I visit Neuschwanstein but otherwise, there is little to lure me back – especially since I'm not much of a beer drinker either. Hahaha. I'm not anti big cities – I would love to revisit Berlin as I really love the vibes there and there are still many places that I haven't explored there.
I can hear that it's raining outside — I hope there will be some sunshine when I walk around Maastricht tomorrow!